Issue price € 2.13  •  April-May 2023, Edition  •  Rome, Italy
An American-Born Italian Princess Has Been Evicted From Her Roman Villa
THE TEXAS NATIVE HAS BEEN BOOTED FROM HER HOME OF 20 YEARS WHICH SHE RENOVATED AND WHERE SHE LIVED WITH HER ITALIAN PRINCE
Princess Rita Jenrette Boncompagni Ludovisi, age 73 – was Rita Carpenter before she married Prince Nicolo Boncompagni.
Although the Italian monarchy was abolished in the 1940's, Prince Nicolo is the descendant of an ancient noble family who has used the title of "prince" and "princess" for hundreds of years.
In 2003, the pair met, fell in love, and were married soon after.   They lived a very happy life together until the death of the prince in 2018.
In his will, Prince Nicolo stated that his wife would be able to live in the villa, that she helped him renovate, until her death.
However, the prince's adult children from a pervious marriage took their late father's wife to court, where Italian inheritance laws are more favorable to children than second wives.
After a bitter legal battle, the court sided with the prince's children and ordered that the princess leave the villa and that it be put up for auction, with the proceeds of the sale to be divided between the princess and Prince Nicolo's heirs.
The original auction price of "Villa Aurora" was set at more than $500 million – a record price which would have made it the most expensive home ever sold.   
But the home was not sold and the price has been lowered twice bringing it down to €180 million.
Prior to her police escorted eviction at the end of April, the princess made the following statement: 
"I've been up for 72 hours, I'm being brutally evicted from a home which I've lovingly taken care of for the past 20 years."
Northern Italy Faces 2nd Year Of Severe Drought 
THE CANALS IN VENICE ARE RUNNING DRY, THE PO RIVER – ITALY'S LONGEST – HAS NEARLY DISAPPEARED AND LAKES ARE AT 70 YEAR LOWS
Italy is responsible for 50% of the rice crop grown in the European Union, but this year, due to a lack of rain and snow, the Po River has no water to carry to the thirsty rice fields of the Po Valley.
This is the 2nd year of severe drought in Northern Italy and the outlook is grim for rice farmers in the regions of Piedmont and Lombardia where 94% of Italian rice is grown.
The Italian Prime Minister, Giorgia Meloni addressed parliament earlier this spring and stressed the need for water conservation as well as the need for a "national water plan" and investments in key infrastructure such as dams and wells in the northern regions of the country.
With droughts becoming more persistent, Italy is searching for solutions that will safeguard agricultural industries and crops such as rice.
The island of Sicily which hadn't grown rice for nearly a century, started production again in 2016 using new water-saving techniques.
Sicilian rice is able to be grown in a hotter climate and with far less water than the techniques being used in the northern regions of the mainland Italian peninsula.
Many are pushing to allow new strains of rice to be allowed in Italy – but the European Union and the Republic of Italy have strict laws in place about the use of seeds with GMO (genetically modified organism) technology.
Rice has been grown in Italy since the 15th century and it is one of the most water-intensive crops to produce.
It takes nearly 10,000 liters of water to produce a single kilogram of rice.
With less snow in the Italian Alps then 2022 and rainfall extremely low in the spring of 2023 – a hot, dry summer is just around the corner.
Italy Declares State Of Emergency Due To Surge Of Illegal Immigration By Sea – Thousands Are Being Rescued Weekly
The new Italian government, which has been in office since October, has pledged to stop the mass immigration from African nations such as Tunisia.   
Approximately 31,300 migrants have arrived in Italy so far in 2023, interior ministry data shows, which is up from around 7,900 in the same period last year.
EACH WEEK WE ASK REAL ITALIANS HOW THEY FEEL ABOUT CURRENT EVENTS IN THE COUNTRY AND THE WORLD
THIS WEEK'S QUESTION:
"What are your thoughts about the boats landing on Italian shores every week filled with thousands of immigrants?"
"It's true that human lives are precious, but we are not capable of managing these flows of immigrants.
They are overwhelming our lives many are bringing drugs and most of the crime in our country is being committed by these new arrivals – there are not enough resources to deal with all of these people arriving illegally – not to mention the many lives lost at sea."
Simi V.
"All human lives are precious"
Angela M.
"Too many deaths. Too much blame from those who ruled for 11 years without consent.
Too much speculation.
Too many crooks.
Dismantle and scrap those ATM ships bringing in all these unwelcome people."
Max N.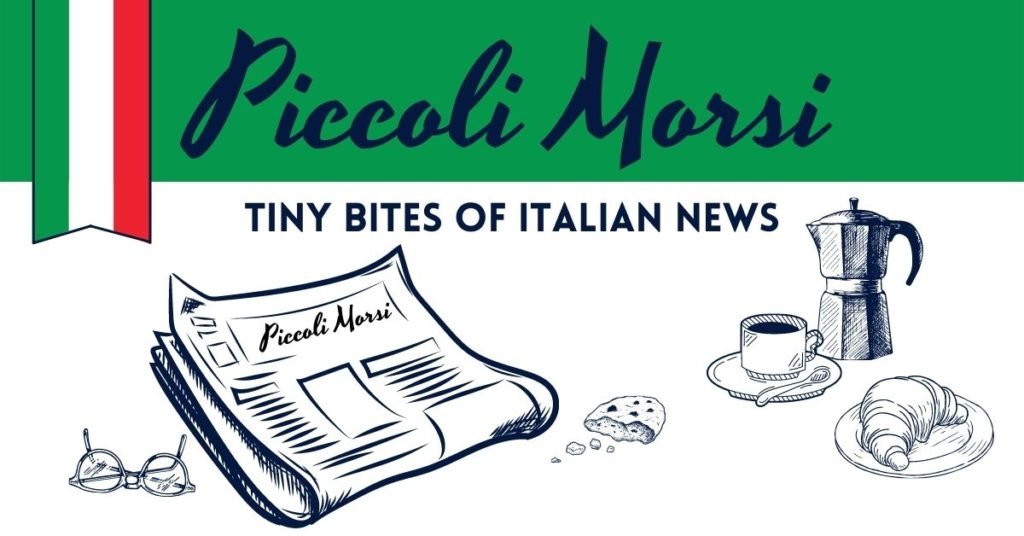 ITALY'S EXPORTS TO RUSSIA ARE BLOCKED BY SANCTIONS 
Some of Italy's most exclusive handbag makers are experiencing more than a 50% drop in sales which have historically gone to Russia's top 1% – if the war and sanctions last much longer, some smaller family-owned fashion brands may be forced to close.
ITALY AND THE REST OF THE EUROPEAN UNION ARE TRYING TO FIND A BALANCE IN DEALING WITH CHINA
With China being the largest trading partner of the EU block, the future is feeling a bit shaky as China ramps up its aggressive posturing toward Taiwan and the USA.
Should war break out, Italy and the EU would be pulled into sanctions against China along with the rest of the Western world – the implications would be catastrophic.
REAL NEWS FROM ITALY is a monthly publication with the most recent & relevant news stories delivered in a brief & unbiased way.
- Translated directly from local Italian newspapers & trusted sources for an Englsh-speaking audience, by a team of journalists committed to truth, critical analysis & free-speach.
© Copyright – All Roads Lead To Italy 2022