Issue price € 2.13  •  February 2023, Edition  •  Rome, Italy
More Than 59 Migrants Have Died At Sea Trying To Get To Italy From Turkey 
THE BODIES OF 12 CHILDREN HAVE BEEN FOUND AND DOZENS MORE ARE STILL MISSING AFTER A WOODEN BOAT CARRYING MORE THAN 200 REFUGEES FROM AFGHANISTAN, PAKISTAN, SOMALIA, AND IRAN, SINKS
A newborn baby was among the bodies pulled from the sea near Crotone, Italy three days ago following the deadly boat wreck.
It is thought that at least 30 people are still missing and feared dead following an exhaustive search and rescue mission in the Southern Italian region of Calabria.
Only 80 people out of the original 200 have been found alive after they managed to swim to shore.
The ship was at sea for many days before crashing into rocks along the Italian coastline, the coast guard has reported.
Troubling mages of survivors on the beach wrapped in blankets given by Red Cross workers have been circulating on social media since the rescue mission began.
"There had been landings but never a tragedy like this,"
the mayor of Cutro told the Italian press in an interview following the tragedy.
One of the survivors has been arrested on migrant trafficking charges, according to customs police.
Italian Prime Minister Giorgia Meloni expressed "deep sorrow" following the early reports of the boat wreck.
Meloni blamed the deaths on traffickers who took advantage of the desperation of the refugees who were seeking a better life for themselves and their families.
"It is inhumane to exchange the lives of men, women, and children for the price of the 'ticket' they paid in the false perspective of a safe journey.
The government is committed to preventing departures, and with them, the unfolding of these tragedies, and will continue to do so."
Meloni said in a statement.
Pope Francis also expressed his sadness upon hearing of the loss of so many lives at sea this week.
It is estimated that nearly 20,000 lives have been lost in the treacherous Mediterranean waters since 2014.
One Of Italy's Most Beloved TV Hosts, Maurizio Costanzo Dies Age 84
COSTANZO WAS A FAMILIAR FACE ON ITALIAN TV FOR OVER 40 YEARS. 
ALL OF ITALY'S TV AND FILM COMMUNITY WERE IN ATTENDANCE AT HIS FUNERAL INCLUDING THE PRIME MINISTER
Costanzo was born in Rome in 1938.   His journalism career began at age 18 working for one of Rome's top newspapers Paese Sera.
Besides his work as a journalist, Maurizio held prominent positions as both a radio and TV host.
One of his most famous shows early in his career was Bontà loro.
His next career move was to the television next work Mediaset owned by media mogul and former Prime Minister, Silvio Berlusconi where he hosted Italy's longest running talk show, The Maurizio Costanzo Show.
Besides his work in TV he was also a celebrated songwriter.   One of his favorite songs was "Se telefonando" written for Italian pop icon Mina in 1966.
In 1993 he famously defied the "Cosa Nostra" Mafia and survived a car bomb attack in Rome.
He is survived by his children and devoted wife of 27 years, Maria Di Filippi who is also a highly popular TV host and producer of many Italian shows including, Uomini e Donne, Che Posta Per Te, and Amici.
Italy's Prime Minister, Giorgia Meloni, had this to say about Costanzo's life and work,
"He was an icon of journalism and TV able to narrate difficult years in our nation with courage and professionalism bringing culture, charm, and kindness into the homes of Italians."
What Real Italians Are Thinking
In every issue of Real News From Italy, we ask real Italians their thoughts on current issues – they are eager to share their opinions and do so – passionately!
THIS WEEK'S QUESTION:
"WHAT ARE YOUR THOUGHTS ABOUT THE PERSISTENT AND COMPLICATED ISSUE OF ILLEGAL IMMIGRATION INTO ITALY VIA THE MEDITERRANEAN SEA?"
"Since the dead are not Europeans, our government does not care about these deaths – shameful."
Paola F.
"We must help them in their country – but we cannot keep accepting thousands of people when our own country is struggling to care for its own."
Carla P.
"Continuing to welcome migrants inevitably means we will continue to face similar tragedies – they believe they will be allowed to stay here which is why they risk their lives in the first place."
Diletta A.
"Finally all the countries of Europe and not just Italy, must take responsibility and accept the migrants to be sent to all the countries and not just Italy! Merkel sent those who came to Germany, a selection of the worse immigrants, to Italy with airplanes and busses, drugged to have the immigrants quiet, and the worst of them came to Italy!
Macron stopped the migrants in Menton at the border between Italy and France and allowed none in but he insists that Italy must welcome them.
All the countries in Europe refuse to accept immigrants in their countries.
Although there is a law that speaks about equal distribution of all the immigrants in all the European states!
Our coast guard ships must stop the departures from Tunisia, Libia, and all the North African countries before more of these poor people lose their lives."
Neta H.
"The fault is of those in the left-wing governments who have always wanted to make them believe that Italy was the happy landing, but we all know very well that they end up dealing drugs, stealing, and prostitution – all leading to social decay.
It will be a never-ending wave of human beings, as long as they know that someone will always be condemned in Italy if you try to obstruct them.
Fabio M.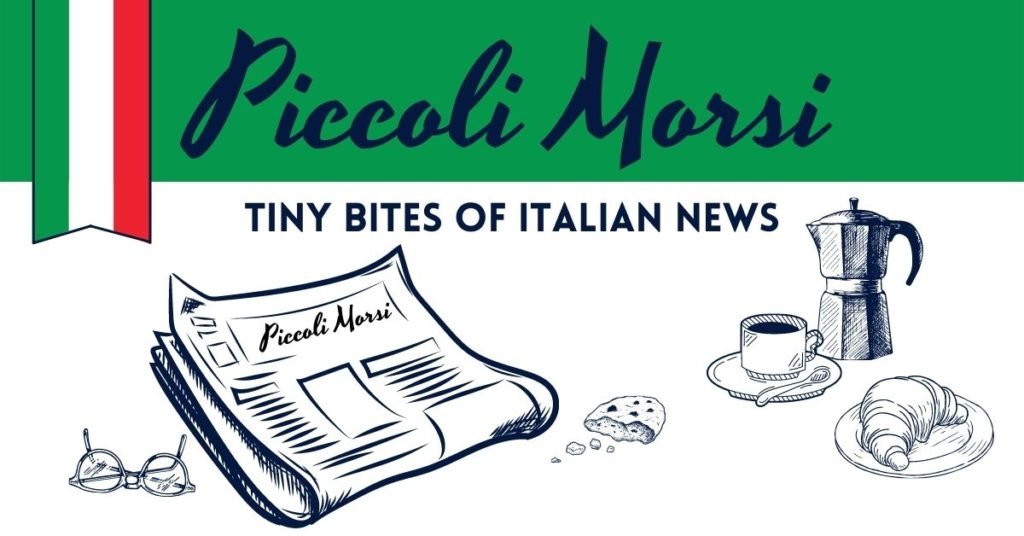 IN SPITE OF MONTHS OF MEDIA CRITICISM, ITALY'S PRIME MINISTER EMERGES AS EUROPE'S MOST POPULAR LEADER
With a more than 50% approval rating in her home country of Italy
– where just a few short months ago she won the popular vote for prime minister with barely 20%  – 
Meloni has beaten the odds and is now one of the world's most popular leaders.
"We will defend God, country, and family"
– Giorgia Meloni
MANY ITALIANS ARE CONCERNED THAT A GROWING NUMBER OF CHILDREN BETWEEN AGES 7 AND 11 CAN NOT WRITE IN TRADITIONAL CURSIVE HANDWRITING
While some argue that this style of writing is obsolete, more traditional Italians warn against losing this centuries-old writing style.
Many blame the prevalence of smartphones and screen devices as the culprit for the decline in cursive penmanship skills.
REAL NEWS FROM ITALY is a monthly publication with the most recent & relevant news stories delivered in a brief & unbiased way.
- Translated directly from local Italian newspapers & trusted sources for an Englsh-speaking audience, by a team of journalists committed to truth, critical analysis & free-speach.
© Copyright – All Roads Lead To Italy 2022