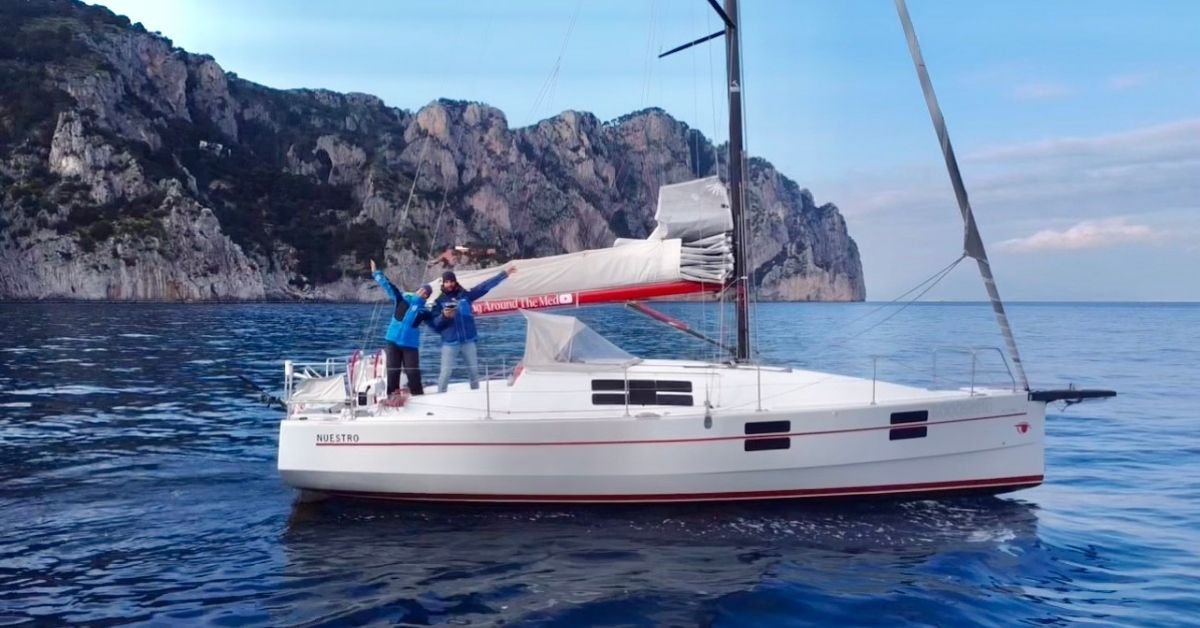 In 2021, when most of us were dealing with COVID lockdowns and pandemic fatigue, two Italians were having a very different experience. 
They were taking part in an epic sailboat race on the Mediterranean Sea.   Giulia Farnetani and Tommaso Colella were total strangers until fate brought them together as fellow crew members on a sailing regatta.
The race was from Rome down to the Sicilian island of Lipari and back – approximately 500 nautical miles. 
By the time the race was over, Giulia and Tommaso had bonded over their shared love for the sea.   
"My dream is to buy a sailboat and live on it while sailing around the world." Tommaso had shared.
"Wow!  Really?!  I've always had the same dream!" Giulia replied enthusiastically.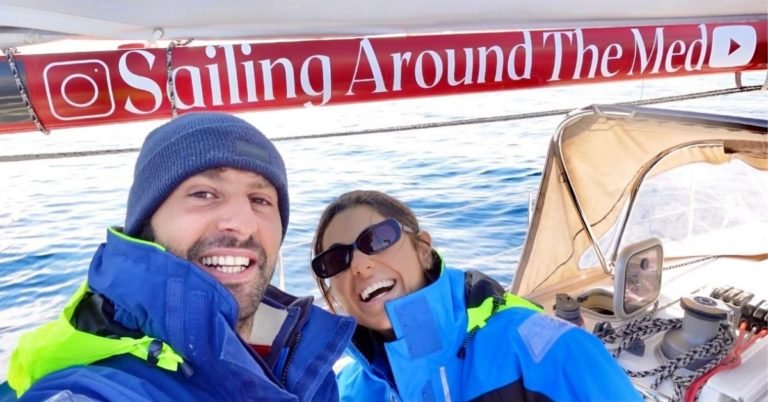 It wasn't long after the race that their shared passion for sailing had developed into a passionate love affair.   While many couples are content to merely discuss their dreams, these two young people are far from typical.
By the time they met each other, Giulia, who has a Master of Finance degree, had lived in California, The United Arab Emirates, Canada, and London.   
While she worked in finance, her love for sailing and adventure was a constant in her life.   She was no stranger to life on the water.  Racing catamarans on Lago di Garda and sailing on the Medditerannian had been passions of hers for years.
Not to be outdone, Tommaso, who grew up in a family of sailing enthusiasts had also lived a full life by the time he met Giulia.  Tommaso had captained numerous large sailing vessels and spent countless hours at sea. 
 Besides his sailing life, he is also a successful entrepreneur.   He founded the sustainable clothing company "Gorilla Socks" which produces all of its products using renewable bamboo fibers.
Search For The Perfect Boat
Soon after they became a couple, they started taking steps to make their dream of sailing the world a reality.   But first, they would need to find the perfect boat – a task that would prove to be far more challenging than they had anticipated.
Over the next several months, Giulia and Tommaso would drive thousands of kilometers across the Italian peninsula looking at one vessel after another.   On a few occasions, they felt as though they had found the boat they were searching for.   But for one reason or another, each time, the deal would fall through.
Discouragement and exhaustion were starting to set in.   They became so desperate, at one point, that they began leaving notes on random boats asking if the owners would be willing to sell.
When it seemed as though their efforts would never bear fruit, in December of 2021, they found a rare Azuree 33, full carbon, sailboat.   It was located in Monfalcone on the Adriatic Sea near the city of Trieste.   
They fell in love with it, but they didn't know who owned the boat or how to find the owner.   After days of searching and asking countless strangers for help, they finally tracked down the owner and made an offer.   
By January of 2022, the boat was theirs.
There are only 3 sailboats in the world of the exact model that they bought.   And the best part was the boat's name, "Nuestro" which is the Spanish word for "Ours".
During their search for the boat, Giulia and Tommaso decided that they wanted their sailing to serve a greater purpose.
In their years of individually spending time on the Mediterranean Sea, both of them had been alarmed by a disturbing trend.   With each passing year, there was more and more plastic waste polluting the precious waters surrounding Italy.
When they discovered their shared concern for this growing crisis, they began formulating a plan.   They could leverage their first-hand accounts of encountering plastic pollution in the Mediterranean to influence change.   They would start by speaking directly to Italians and eventually the rest of the world through social media and YouTube.
With their newly acquired boat three-quarters of the way around the Italian peninsula from their home in Rome, they decided to make their first voyage around Italy together on "Nuestro".   Not wanting to waste the opportunity to use the 1,200 nautical mile voyage to share their message of "plastic-free" oceans, they decided to document the adventure.
"Sailing Around The Med" - YouTube
You do not need to be fluent in Italian or even be able to understand more than the word "ciao" to be enchanted and mesmerized by the videos Giulia and Tommaso have posted on their YouTube channel!   
And what better way to be exposed to a bit of Italian language and culture than to watch this beautiful couple sailing around the Mediterranean together?
They beautifully documented each leg of their incredible maiden voyage through the Adriatic, past Sicily via the Messina Straight, and up the Tyrrhenian Sea to Rome.   
It is also worth noting that this adventure was undertaken without any of the standard oceanic navigational equipment that most sailors wouldn't dare to be without for a two-hour pleasure cruise.   
The vessel did not come equipped with even the most basic navigational equipment when they purchased it.   But instead of having that equipment installed in a port where they didn't have relationships with marine contractors, they elected to sail it to the port near Rome with which they were more familiar. 
They were very clear that, for even the most experienced seafarer, this would be considered a highly dangerous endeavor and is not advisable.  However, that disclaimer could be misinterpreted.   
Very few people in the sailing world can boast the thousands of combined hours at sea that this pair is too humble to point out; not to mention, the high level of experience so rarely found in sailors of their age.   In other words, if anyone could do it – they could.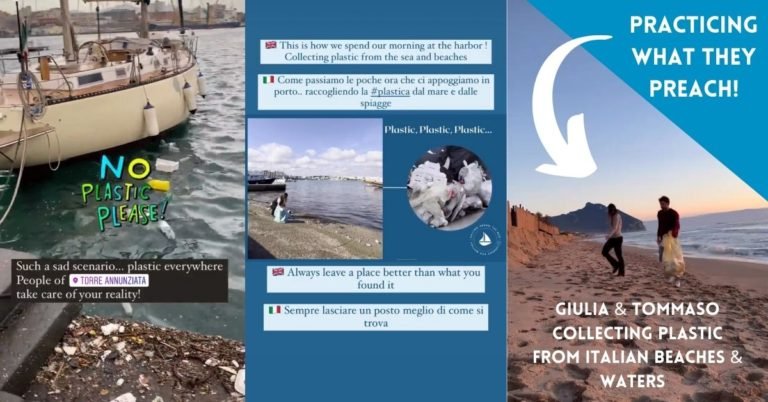 While I could write pages of highly compelling anecdotes about this remarkable pair, you should hear more about them from themselves.
Recently, I had the pleasure of interviewing Tommaso and Giulia (in English) in a recent episode of my weekly podcast, I'm Moving To Italy.
The episode (Season 3: Episode 13) is available on Apple, Spotify, and most other podcast platforms.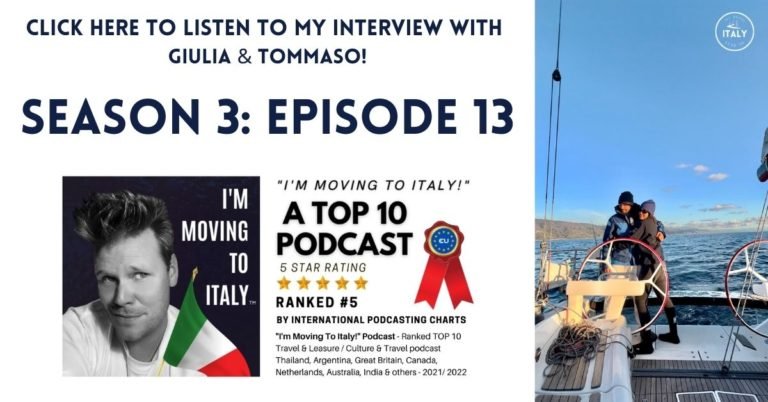 If you need to be inspired to be more adventurous, fall in love, and do your part to save our oceans from pollution – there's no one better to inspire you than these two brilliant Italians!
As you will hear in the podcast interview, they are currently prepping for their next great adventure, a transatlantic crossing in November.   
Make sure you are subscribed to their YouTube channel "Sailing Around The Med".
You can also follow on Instagram @sailingaroundthemed.
Dreaming of Moving to Italy? 🇮🇹 Get this FREE podcast & be INSPIRED by someone who moved from New York to Italy in 2020!