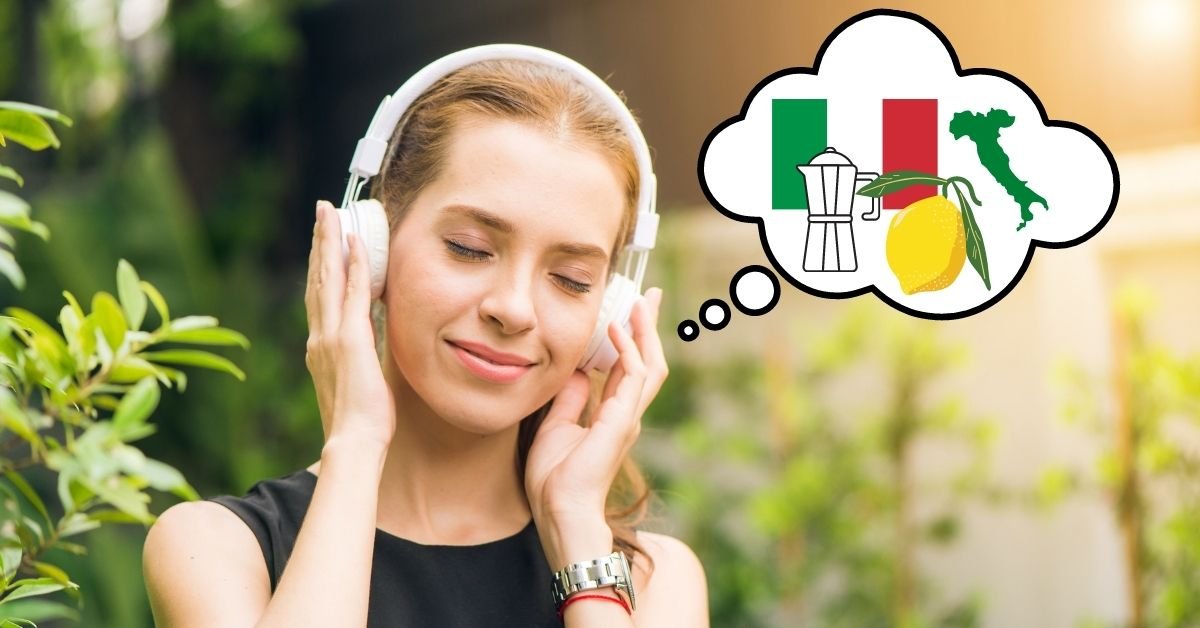 The 5 Best Italy Podcasts
Because Italy is such a beloved destination for so many people around the globe, it's no wonder there are scores of podcasts dedicated to the topics of Italian food, travel, culture, language, and life.  
Our team has researched and curated what we believe are 5 of the very best podcasts about Italy and the best of all things Italian.
#1. "I'm Moving to Italy" - with Nathan Heinrich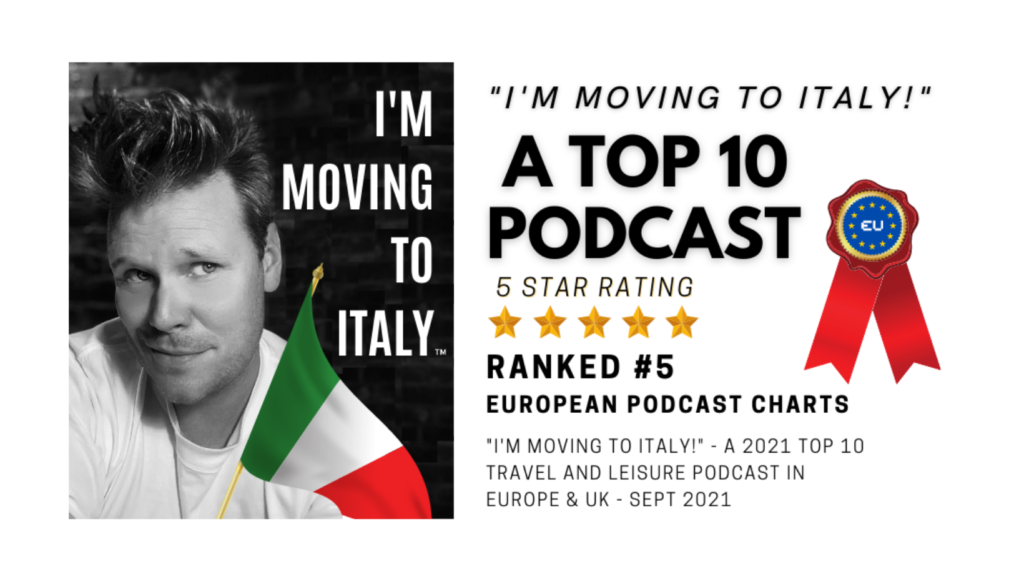 If you've ever dreamed of living in Italy and let's be honest, we've all dreamed of it – then this podcast is one you should not miss.
Host, Nathan Heinrich, is an American writer, designer, and botanist who moved to Italy from New York in 2020.   He is married to a native Italian and he has been documenting his journey as he "fumbles and bumbles through his new life in Italy".
Nathan's brutally honest stories are so humorous, that you will find yourself literally laughing out loud.   There are also many heartfelt and touching stories in this podcast that might even bring a tear to your eye.   
Road trips, disastrous travel stories, Italian language school experiences, and the "Surrounding Sounds" (where Nathan shares sounds from Italy in his weekly episodes) are just a few of our favorite things about this 5 star-rated, Top 10 Travel & Lifestyle podcast.   Listen on Apple, Spotify, Amazon, and everywhere podcasts are streamed.
Click here to visit the show's website and start listening today!  www.immovingtoitaly.com

#2. "Luca's Italy" - with Luca Marchiori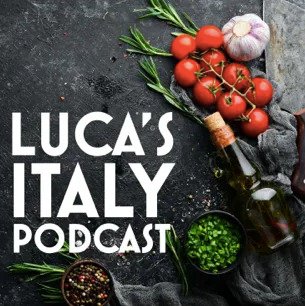 Luca's podcast is just what you would want in any podcast, but especially one about food and Italy!   
Luca Marchiori is a British-Italian writer. Born in Italy to an Italian father and British mother and was brought up astride both cultures. So he's the perfect guide to introduce you to and explain the culture of his homeland.
As an adult, he lived Switzerland, and France, before returning to his native Italy. Although based in the Tuscan village of Caprese Michelangelo, he currently divides his time between Venice, Rome, Tuscany, and the UK.
Luca has written for, among others, Tuscanycious!, the official website of the Tuscan Tourist Board, Great Italian Chefs, Devour Tours and has been published in The Independent. He can be seen on Netflix's Somebody Feed Phil, talking about the great love of his life, Venice.
Check out Luca's charming podcast and website here:
#3. "Italy Made Easy" - with Manu Venditti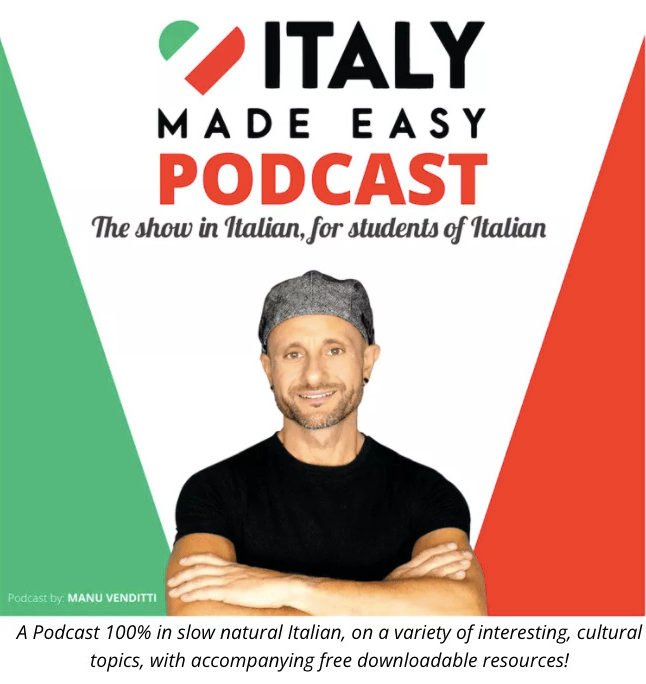 While there are a number of podcasts about learning Italian, we believe that Manu's is the best of them.
Here's Manu in his own words: 
"Ciao, I'm Manu Venditti – the Founder of Italy Made Easy!  Italy Made Easy is the online world I created to bring my beautiful language to students across the globe who love all things Italy, who want to learn to speak Italian and who dream of immersing themselves completely in the Italian culture.  
Whether this is your first time studying Italian, or you've tried to learn in the past with other courses, apps or teachers to learn Italian with not much success, here's why you can trust me, Manu, to take you to Italian fluency!"
Check out Manu's website here: 
#4. "The History of Rome" - with Mike Duncan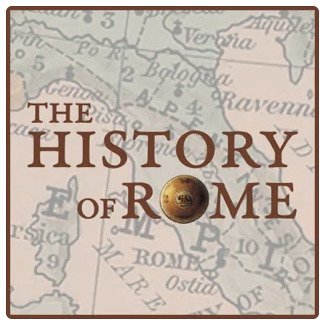 How can you truly know and love a place until you fully understand it?   To really appreciate Italy one must, at least, have a basic understanding of the rise and fall of the Roman Empire and its millenials-long influence on what is now modern Italy.
There's no better source for unlocking Italy's remarkable past than Mike Duncan's legendary, 192 episode podcast.
Mike Duncan is one of the foremost history podcasters in the world. His award-winning series The History of Rome set the standard for episodic narrative history and inspired a generation of listeners. His current series Revolutions explores the great political revolutions of history and is one of the most popular history podcasts in the world. He is also the author of the New York Times Bestseller The Storm Before the Storm: The Beginning of the End of the Roman Republic. Born and raised in the Pacific Northwest, he now lives in Madison, Wisconsin with his family.
To listen to the podcast visit "The History of Rome" website here:
#5. "Rick Steves Italy - Audio Tours"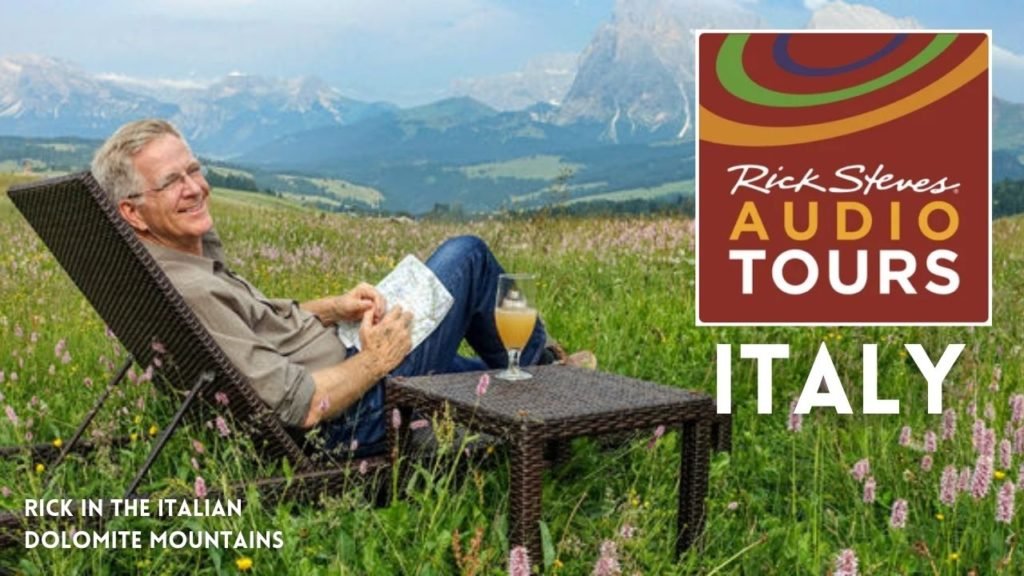 If you're planning a trip to Italy without a guided group tour, if you're a Baby Boomer or Gen X'er or any regular human being, if you like structure and detailed information about the places you travel, but like to do things on your own terms – Rick Steves is here for you with his wonderful guided walking city tours of all the major Italian cities and their most popular attractions.
Rick Steves Italy Audio Tours provide humorous and insightful commentary on the art and history of many of Italy's most notable museums and historic sites in Assisi, Florence, Pompeii, Milan, Naples, Rome, Siena, and Venice.
Rome Audio Tours:
• Colosseum Tour
• Heart of Rome Walk
• Jewish Ghetto Walk
• Ostia Antica Tour
• Pantheon Tour
• Roman Forum Tour
• Sistine Chapel Tour
• St. Peter's Basilica Tour
• Trastevere Walk
• Vatican Museums Tour
Florence Audio Tours:
• Accademia & Michelangelo's David Tour
• Bargello Museum Tour
• Renaissance Walk
• San Marco Museum Tour
• Uffizi Gallery Tour
Venice Audio Tours:
• Frari Church Tour
• The Grand Canal Cruise
• St. Mark's Basilica Tour
• St. Mark's Square Tour
Assisi and Siena Audio Tours:
• Assisi Town Walk
• Basilica of St. Francis Tour
• Siena City Walk
• Milan Audio Tours
• Milan's Duomo Neighborhood
Naples Audio Tours:
• Naples' Archaeological Museum
• Naples City Walk
Rick Steves is a popular public television host, a best-selling guidebook author, and an outspoken activist who encourages Americans to broaden their perspectives through travel. He is the founder and owner of Rick Steves' Europe, a travel business with a tour program that brings more than 30,000 people to Europe annually. 
To visit Rick's website click this link:
  There are many excellent podcasts available on the topic of Italy and all things Italian.   
The above just happen to be five of our favorites.   If you have a favorite podcast that you think we should add to our list, or if you are the host of a podcast you would like to have featured – please drop us a note at: [email protected]
In the meantime, happy listening!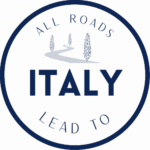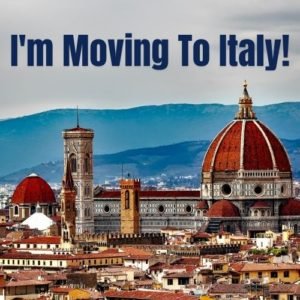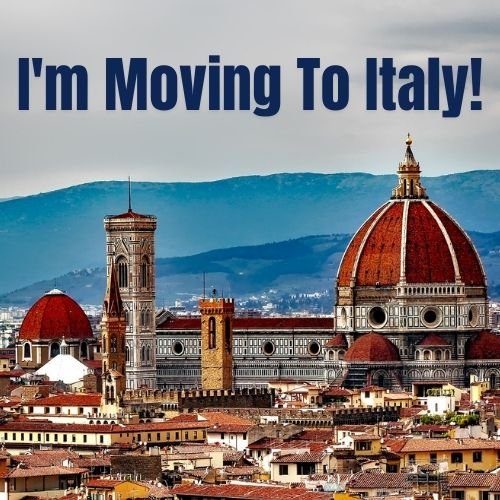 Dreaming of Moving to Italy?🇮🇹 - Get this FREE podcast & be INSPIRED by someone who moved from New York to Italy in 2020!
*By signing up for this Podcast you'll also be joining our mailing list through which we will keep you up to date on all things Italian!  We never sell your information and you can easily unsubscribe at any time.